ELIZABETH TOWNSHIP HISTORICAL MUSEUM
Mission Statement: To preserve the provenance and continuing heritage lifestyle
of the people and the place of Elizabeth Township, Miami County, Ohio.

ELIZABETH TOWNSHIP HISTORICAL SOCIETY MEMBERSHIP FORM (26 KB)
The museum continues to get donations. We want to thank everyone who helps us by giving things.
A Special Thanks to:
William Tyler
Jo Urick
Jim Halderman
Arlene Glass
Louise Curtis
Bonnie Smith
Chuck Martin
Fred and Evelyn Taylor Stockslager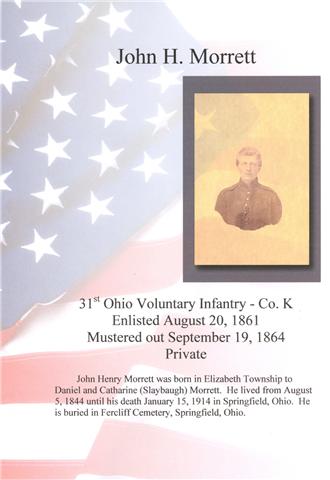 Check out the picture of what our military collection will look like. We are hoping to get a page like this for all people who served in the military from the township, which service branch and when they served. Please send us a picture and information about you or your relative. We also have information about two men who served in the Civil War from Elizabeth Township. If you are interested in volunteering to compile this information contact Audrey Phillis at 339-5209.
I hear so many stories when people visit the museum and have asked them to write down their stories so that everyone can enjoy them. There is so much history here and it isn't written down it will be lost. Please share those stories with us. You can either write the story or tape it and send it to us. If you don't feel comfortable doing either of those methods, call and someone will tape it for you.
It's time for our membership drive. Don't forget to join us. We are looking for new members, too. It doesn't cost very much to join and with the newsletter you will know what is happening here in our community.
The museum belongs to all of us. Please let Audrey Phillis (339-5209) know any concerns or questions you may have. If you would like to volunteer to help it would be appreciated. Call Audrey know if you would like the museum to be opened for you or a group.
The Elizabeth Township Historical Society is proud to present and display elements of the history in Elizabeth Township. The museum hours will be by request. Call Audrey Phillis 937-339-5209. Hours for the museum will be posted once the facility is open to the public.
ABOUT OUR MUSEUM
Work is progressing on collecting and identifying pictures of the community and schools. I need your help. We have a long school picture of Elizabeth School from 1916 and 1922 with all the students and others in them. We also have the graduating classes from 1929 on. We are looking for pictures and information of the graduates from 1919 to 1929. Does anyone know when the school began having class composites for graduating classes? Does anyone have pictures of graduating students from 1919 to 1929? Any and all information would be appreciated.
If you would like to visit the museum, call and we will open it for you. If you have any questions please call me.
Audrey Phillis, Museum Director - 937-339-5209
To view 360 degree videos of room 1, click here.
To view 360 degree videos of room 2, click here.
HISTORICAL SOCIETY
Purpose of the Society:
To promote interest in the history and cultural heritage of the Elizabeth Township Historical District, located in Miami County Ohio, and to encourage and support the preservation of Elizabeth Township as a listing on the National Registry of Historical places.
To collect, preserve, and share appropriate items and information pertaining to the history of the township and the families therein.
To maintain a library and to publish whenever possible, appropriate materials relating to local history, genealogical research, architectural, cultural, and social growth in the township.
To encourage the education of all citizens of the Township in historical studies and pursuits.
To cooperate wherever possible with historical societies throughout the country and with other groups having similar purposes.
OFFICERS
President: Melissa Duer, 845-1142
Vice President: To be filled
Secretary: Carmony Goecke, 673-6436
Treasurer: Viola Williams, 667-4169
Membership: Larry Hess, 339-4466
Newsletter: Viola Williams, 667-4169
Museum Director: Audrey Phillis, 339-5209
Trustee: Janet Knife, 667-6201
Trustee: Sue Curtis, 335-0613
Trustee: Linda Campbell, 845-3439
Trustee: Pat Gilliland, 857-9460
Trustee: Sharon Ochs Maingi, 667-2525
Trustee: To be filled
MEMBERSHIP

ELIZABETH TOWNSHIP HISTORICAL SOCIETY MEMBERSHIP FORM (26 KB)
Open top all individuals interested in the purposes of the Society. There are three classes of membership:
Individual - Annual membership dues are $10.00
Family (children under 18 are considered part of the family, if living at the same address and not married) - Annual membership dues are $15.00 family
Supporting - Annual membership dues $35.00 supporting.